"The most comprehensive resource and strategy guide for buying a liquor store."
"A Liquor Store Can Be An Excellent and Stable Business To Own. Unfortunately, The Process To Buy One Is Extremely Complicated. Getting The Necessary Licenses, Dealing With Poor Books and Records And Inaccurate Inventory Levels Are Just a Few Issues."
"Everything You Need To Know Before You Buy A Liquor Store."
How To Buy A Good Liquor Store At A Great Price© is "the most widely used and comprehensive strategy guide for buying a retail liquor store business." This is not a basic introductory book. It combines all the crucial knowledge and proven strategies for every phase of the process and every situation you will encounter. Plus, you will also receive ongoing expert consulting at each step.
If you are serious about buying a liquor store, and especially if you have never purchased one before, you have landed on this Website because you want to be absolutely certain that you have the right information along with access to expert advice to make all the right decisions.
How To Buy A Good Liquor Store At A Great Price© is based upon countless liquor store business investigations, reviews and successful transactions.
The program contains over 600 pages of simple-to-follow proven strategies, legal agreements, interactive resources, case studies, financial spreadsheets, worksheets, and useful resources.
How To Buy A Good Liquor Store At A Great Price© is written by industry expert Richard Parker, who has personally purchased thirteen businesses and is recognized as: "the small business acquisition authority".
Along with the program you can consult directly with Richard and his team of experts as often as you wish during the process.
What You Will Learn:
The 87 key questions to ask every liquor store owner.
How to determine what specific type of liquor store makes the most sense for you.
The best places to find liquor stores for sale.
Understand all of the crucial licensing issues and how to be completely protected.
Understand what every good liquor store must have in place to consider buying it.
How to determine the real revenue and not just what the seller would like you to believe.
Proven valuation techniques to accurately value any liquor store so you don't overpay.
Learn specific deal structures that make sense and provide the protection you need.
Use a 73-point due diligence checklist & strategy to uncover all the problems before you buy.
How to solicit the 'hidden market' of liquor store businesses not publicly listed for sale or available online.
Proven strategies to negotiate the 50 critical clauses in a purchase contract.
How to get any seller to finance the deal.
Learn how to avoid all the costly mistakes that most inexperienced buyers make.
Industry resources to utilize.
What you should do and what to avoid once you take over.


Our Program Includes Ongoing Professional Consulting
To Help You At Every Step
We don't just send you a pile of information and leave you on your own to figure it out.
When you begin to follow our materials, you will be enrolled in our Personalized Consulting Program. With this service you will have ongoing and unlimited access to a team of liquor store business-buying specialists to help you with every situation you encounter.
If you need some advice or feedback when reviewing liquor store for sale listings, putting an offer together, negotiating a the deal, investigating or compiling a valuation, analyzing the financials, or if you just need an expert and unbiased opinion , we will provide you with our experienced assessment and input immediately.
Best of all, you do not pay anything extra for this service and you can use it as frequently as you wish!
Whenever you need some help, contact us, outline the particular situation, and tell us if you prefer an email or phone call. We will analyze the particulars and provide you with our comments within one business day.

How To Buy A Good Liquor Store At A Great Price© is a 600-plus-page 'how to' strategy guide for every prospective liquor store buyer. The program will takes you through each stage of the buying process. The material is divided into two specific guides and 42 individual sections from determining what kind of liquor store is right for you through to closing the deal. The complete program includes interactive worksheets, case studies, real-life examples, and all of the knowledge you need to help you become the owner of the right liquor store business.
Table of Contents:
An Overview of the Industry: You will learn about current and predicted future trends, industry statistics, and looming threats to watch out for in any liquor store you consider purchasing.
Features of Highly Profitable Liquor Stores: Here we outline all of the key ingredients that the most successful operations have in place. You will understand what to look for, and specifically what you may need to do to bring up any store to the greatest performance level possible. You will also learn why some liquor stores succeed while others fail.
What Makes A Good Liquor Store? Here you will understand the crucial components and common denominators that successful retail liquor store businesses share. You'll learn what customers really want in a liquor store (it is a lot more than just cheap booze) and whether the one you may be considering possesses these criteria or can be modified accordingly. You'll learn what needs to be evaluated regarding the location and some of the common issues that inexperienced liquor store business buyers buyers overlook.
The Ten Commandments - What every good liquor store business must possess: This is huge! In this section you will learn ten critical factors that every good business has in common. This is a bulletproof test to see if any retail liquor store business is worth pursuing. After thousands of business purchases, we know precisely what the common ingredients are in every good business!
Licensing Issues: This is critical. In this section we outline all of the key issues that need to be addressed, what to look for specifically, how to negotiate the price of the license, plus all other components to this aspect of buying a liquor store. Licensing varies from one store to another and certainly between cities and states. You may even find some liquor stores for sale where you cannot even obtain an operating liquor store license. Imagine what a shock that would be if you are not properly prepared. This section also includes a comprehensive list of resources to access so you know the exact status of the licensing, and you certainly do not want to rely on what the seller or their representative tell you.

Using Business Brokers and Intermediaries: Unlike real estate agents, business brokers do not represent the buyer. They are paid by the seller and so their agenda is obvious: get you to buy any liquor store and not necessarily the right one. So why should you use them at all? Actually, they do have a role to play. First, they can assist you in gaining th access to retail liquor businesses for sale. Second, it is good to have them as a conduit to the seller and especially to deliver any bad news to the seller. It is important wherever possible to maintain a good relationship with the seller and certainly if they will remain after closing for training. However, you must "use" the right business broker and the program will explain how to check them out and most importantly, to get them to show you the best liquor business for sale before other buyers see them.
Where to Look For a Liquor Store for Sale: This chapter outlines the specific resources for you and also the best Websites to visit. A huge mistake that inexperienced business buyers make is to limit their search to the Internet. We will explain why your search must go offline as well, where to look, and also how to solicit stores to buy which are not currently listed for sale.
Reviewing Liquor Store For Sale Listings: There are over seventy key issues to identify in a liquor store for sale listing. These include hidden things that will tell you a lot about the business including the good and bad aspects to it. Business for sale listings form the foundation of most of the questions you must ask the seller. Further, you will have the ability to quickly review them, and immediately identify liquor stores for sale that are worth pursuing and how to completely avoid wasting your time pursuing ones that don't make sense. The right retail liquor store business is available for you, but you may need to go to the non-public market. Your approach needs to be completely different so the store owners don't take your solicitation as meaning you will pay any premium.
The Key Questions To Ask A Seller: In this section you will find the 87 key questions to ask the seller of a liquor store business. Not only will you know what to ask, but we explain the answers to look for. This is a crucial component to the materials because you will be fully prepared to meet with the seller and leave with a clear understanding of their particular business, the challenges, and opportunities.
Personal Issues To Consider: There are a lot of personal matters to consider when buying any business, but even more so when it comes to a liquor store. You will learn nineteen important questions you must ask yourself, the key strengths that every successful liquor store owner possesses, and the common problems you will face.

Reviewing The Figures: Having the ability to verify the financials to be sure they are true and accurate is priority number one. Remember, numbers don't lie; sellers do! You will learn how to value a retail liquor store so you can be sure to pay a fair price. You are going to know how to analyze, investigate, and reconstruct the financials, since often times they are not well maintained by the typical owner. Although trying to figure out the real numbers can be challenging, you will learn exactly how to do it. You'll understand the exact steps to take and the procedures to use to uncover any problems and to see if the seller has "cooked the books" or made certain adjustments to falsify the business. This goes on all the time and the consequences can be enormous!
Valuing A Liquor Store Business for Sale: It definitely takes a level of expertise to accurately value a retail liquor store since there can be so many variables. Besides the business, there can be real property and land owned separately - all of which needs to be factored into the valuation but you cannot mix them all into one formula. And, you certainly do not want to overpay. The program includes two proprietary and proven valuation formulas that will completely eliminate the guesswork and show you how to accurately value any liquor store business for sale. Further, you will learn why some methods that sellers or business brokers push are terribly unfair to the buyer. These simple-to-use models guarantee you will never overpay for your purchase. The True Valuation Calculation™ and The Diomo Business Assessment™ methods have been used successfully in thousands of business purchases.
Avoiding The Hazards: Many inexperienced buyers to make awful decisions. Throughout the material we highlight the issues that trap people. You will know how to identify and avoid them all!
Deal Structures: When it comes to structuring the terms for a liquor store purchase, there are many issues to consider. Often-times, the lack of provable revenues and profit necessitate an earnout formula. You'll receive specific legal language to use in the contract to cover the critical elements of the due diligence and an on-site observation period. Our program will prepare you to effectively negotiate every part of the deal. There are over 50 specific clauses that must be attacked and this is what separates good deals from bad ones! We provide you with "what to do" checklists and point-counterpoint strategies for each component you'll have to include in a Purchase Agreement. We'll lay out the precise clauses you'll need to ensure you're protected from a future decline in the business, purchasing bad inventory or equipment, or for any other liabilities that will surely come back to haunt you if you don't protect yourself properly.
Hiring Professionals: All lawyers and accountants are NOT the same. They each have their specialty, and while they both have a role to play for you in a liquor store purchase. After reviewing this section, you will understand how to hire the right lawyer and accountant, and you will also learn eleven proven ways to save a ton on their fees.
Financing The Purchase: Your goal is to get the seller to finance a good part of the deal. There is no need to put up your house, or provide personal assets to guarantee any loan. Over ninety percent of our clients negotiate seller financing through the methods we demonstrate. This is a crucial part of the deal. Think about it this way: If the seller is not willing to offer you financing doesn't that speak volumes about what they feel about the future of the business or their confidence (or lack thereof) in your ability to run it?

Due Diligence: This is a big one! There are 82 specific issues that you need to investigate during the due diligence stage when buying a liquor store. You definitely do not want to uncover a problem after you buy. This step in the business buying process is so important when buying a retail liquor store business for sale because there are licensing issues, major suppliers, and government agencies involved involved. This comprehensive checklist details what you need to review for the financials, the equipment, the premises, the lease, the operations, the employees, the legal and contractual matters and the observation period.
Closing The Deal: Getting to the final decision - In this section, we discuss how to add up all the information and make the right decision. You will also learn what issues may need to be renegotiated, and which the documents are required to close the deal.
Your Post-Purchase To Do List: The first several months after you take over a business, but especially a retail liquor store, are critical. It is one thing if you are a highly experienced retail veteran, but if not, there are a number of specific things you must do, and certainly others you must avoid during the transition period. Since liquor stores generally face rigid competetion, it is very easy to lose customers if you do not pay attention to the key issues after the sale. We outline the ideal strategy for you to adopt once you take over your new business.
Interactive Resources Included: How To Buy A Good Liquor Store At A Great Price© includes legal forms, specific clauses to include in the agreements, Letter of Intent and Offer To Purchase Agreement templates, fully formatted valuation spreadsheets to complete your for financial analysis, plus a Personal Financial Statement worksheet, case studies, and course exhibits.
Our Unconditional Money-Back Guarantee


We want you to know the extent to which we believe in and back up our program.
After you receive the material simply follow the techniques we've outline, and feel free to use the Personalized Consulting Program as often as you want. If for any reason, you do not feel that the information we provide does not equip you with all the knowledge you need to buy the right liquor store business, or if our program does not exceed your expectations, just tell us at anytime and we will refund all of your money immediately .
This is not a thirty, sixty or ninety-day guarantee. We mean anytime you want.
This is a no questions asked, no fine print and no time limit guarantee!
The reason we can offer this no nonsense guarantee is really simple: when you offer a program that works time and time again, there is no reason whasover to fear offering people the ability to get all of their money back if they are not 100% satisfied with the product
Now Available In Download or CD Versions
You can now get the complete course via electronic download and be on your way minutes from now!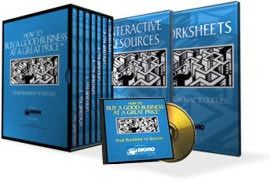 Downloads in minutes.
Fully interactive.
You can save it to your computer or print it out.
No special software required.
CD version includes all files in pdf, Word and Excel formats.
Also Includes:
Study Guide and Journal© - Use this guide to log your progress, note key points from each section, and to identify any questions you want to discuss with us.

Prospective Business for Sale Portfolios© - You will use this comprehensive four-part form when you evaluate each particular liquor store business for sale. It will definitely assist you prepare your questions, log your notes, organize any follow-up, and conduct a complete evaluation on each business you may be considering.
Due Diligence Worksheets© - This is not the time to let anything slip through the cracks! These worksheets allow you to identify every single task that needs to be completed and all the follow-up to be done for this crucial stage of the liquor store business buying process. A great companion tool for the comprehensive course section on Due Diligence.
Immediate
Electronic Download



$197.00


subject to change without notice

Click once on the "Buy Now" button and you will be taken to our secure server and order form.
Something To Consider
Whenever you have to make a decision in life, whther it is large or small, you must consider all sides of the equation. The cost of the material is negligible compared to what you will potentially pay for and earn from the right liquor store, or how much it will save you by avoiding the wrong one.
Perhaps it is possible for you to buy the right liquor store business for sale at a great price without using this knowledge, but why would you even consider taking such a huge risk?
Ask yourself a question: What's the downside? There isn't any; you have no risk! It is just common sense to know that when it comes to investing your money, you can never have enough knowledge. Think about it: could we possibly offer our guarantee and remained in business since 1990 if our system did not work?
Thank you for your time. We are eager to begin working with you.
If you have a question about the materials - if you are not certain it's for you, or if I can assist you with anything at all on the subject of buying a liquor store, please email me at anytime at 'rparker@diomo.com". It will be a pleasure to assist you.
Sincerely,



Richard Parker
Diomo Corporation - The Resource Center for Buying a Liquor Store™

Note: The cost of this course may be considered a tax-deductible business expense. Please consult your accountant.