How To Value A Liquor Store Business
By Richard Parker: President of The Resource Center for Buying a Liquor Store™ and author of How To Buy A Good Liquor Store At A Great Price© .
You're a normal, red-blooded business buyer, right? So it stands to reason that you've already been looking at listings of liquor stores for sale. Who could blame you? Shopping for a business is exciting. Who could resist taking a look at what is for sale?
But at the same time, I bet you have found that those listings are pretty confusing. Let's say that you want to buy a liquor store. Maybe you found one in Ithaca, New York, that was listed for less than $200,000. And then you found a listing for a similar store, not too far from that one, that was darn similar in appearance, but listed for more than twice that much.
What's going on? It's got to be one of those "apples vs. oranges" situations, correct? In all likelihood, it is. But when you're wandering into a situation where businesses that seem similar can vary greatly in price, you need a lot of information before you can become a capable comparison shopper.
Every business has a value – and when it comes time to purchasing one, the value becomes an extremely important issue to take into consideration. Note that the deal terms are equally important.
The Seller places a certain dollar value on an establishment. You, the prospective buyer, will probably have an entirely different figure in mind. But to cut through that confusion, keep this in mind:
You must determine what specifically holds the value in the business.
I have long believed and experienced the following when it comes to the Seller's perception of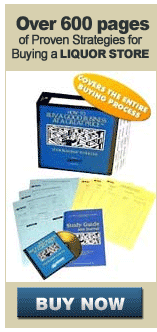 the price:
What a Seller thinks his business is "worth" has little if anything to do with its value.
An Overview of What "Goes Into" a Liquor Store aluation
Here are some issues to consider when compiling your valuation:
Location
Sustainability of the revenue and profits
Recent financial trends using provable financial statements
Customers – both current and potential
The term of the lease
Population shifts
Road construction
Unreported income
Increased costs you may incur after you take over
Family members or friends working in the business, taking below-industry wages
Employees being paid cash (you will have to bump up their salaries to pay them legally)
Gross sales receipts and profit
Growth opportunities – including potential additional profit centers such as Internet sales
Looming threats that can impact the business
Want to completely eliminate all the guesswork when doing a valuation of a liquor store business? Our guide includes an automated valuation spreadsheet that does all the work for you.
To learn more success secrets of top-performing liquor stores, be sure to order our guide, How to Buy a Good Liquor Store at a Great Price.
---
This article represents a fraction of what you'll learn in How To Buy A Good Liquor Store At A Great Price© - the most widely used reference resource and strategy guide for anyone thinking about buying a liquor store. Read a detailed listing of what you'll learn.