Is a Liquor Store the Right Business for You to Buy?
By Richard Parker: President of The Resource Center for Buying a Liquor Store™ and author of How To Buy A Good Liquor Store At A Great Price© .
What do business buyers worry about most? A recent study conducted by my company Diomo.com found that these are the major concerns:
1. Valuing the business correctly.
2. Choosing the right business.
3. Financing the purchase.
4. Conducting due diligence.
Since choosing the right business is close to the top of the list, that's' the issue I would like to address today.
Of all the kinds of businesses for sale, why should you think about a liquor store? Here are some steps that can help you make that critical decision:
First identify some broad categories of prospective businesses that you want to consider. One of the better ways is to do an Internet search for the term, "businesses for sale." You'll quickly find hundreds of listings for businesses for sale, organized neatly by category. Which of them interests you? Which of them turns you off? Are there some kinds of stores that you were not even thinking about – garden stores, bicycle stores, gourmet food stores, or something else?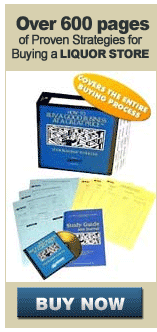 And how high does the liquor store category rank among them all for you?
Contact and visit at least two sellers in each of the broad categories you initially identify. Business owners are almost always happy to talk to prospective owners about the challenges they face in their businesses. Go out and talk to them! They will prove to be valuable contacts later on, as your buying plans become firm.
If the idea of buying a liquor store still tops your list after completing the steps I recommend above, go out and meet with 10 people who are selling liquor stores. Talk to them. Your ideas about buying a liquor store will begin to crystallize – guaranteed!
Next, you will want to identify some stores that really interest you – stores that you just might seriously consider buying. But you have arrived at that point in the process in a logical way, by following the steps I outline above. You will then be well on your way toward making an informed decision – the right decision that will lead you to buying and owning the liquor store that is right for you.

To learn more success secrets of top-performing liquor stores, be sure to order our guide, How to Buy a Good Liquor Store at a Great Price.
---
This article represents a fraction of what you'll learn in How To Buy A Good Liquor Store At A Great Price© - the most widely used reference resource and strategy guide for anyone thinking about buying a liquor store. Read a detailed listing of what you'll learn.