Why Even Small Liquor Stores are Highly Competitive Businesses!
By Richard Parker: President of The Resource Center for Buying a Liquor Store™ and author of How To Buy A Good Liquor Store At A Great Price© .
You're thinking about buying a liquor store. But you're worried. Is your small business going to be run out of business by huge liquor retailers?
My answer is, no! Within the United States, extensive state laws and regulations severely limit the ability of national chains or Internet retailers to ship beer, wine and liquor across state lines. As I write this article, even huge Internet retailers like Amazon.com have not been able to find a way to sell beer, wine or liquor.
This statement, from the Website of one California retailer who does sell liquor over the Internet, documents the difficulties very well:
"We do NOT ship alcohol to Alabama, Arizona, Arkansas, Connecticut, Delaware, the District of Columbia, Florida, Georgia, Indiana, Kentucky, Montana, Ohio, Utah, Maryland, Michigan, New Hampshire, Massachusetts, North Carolina, Pennsylvania, Tennessee, Texas, Oregon or South Carolina, Every state has their its regulations related to these products; please check with appropriate agencies. We recommend insurance for all shipments. We ship only to business addresses. No purchase of alcoholic beverages or tobacco products will be made to any person under the age of 21. The delivery carrier will require proof of age and an adult signature. Products cannot be shipped to an APO, FPO, PO Box or internationally."
And here's another statement from a large wine merchant in New York:
"Many states restrict the shipment of wine. We do apologize for the inconvenience if we are not able to service your area and do hope that you will help us in the fight to be able to provide you with the items you wish to purchase. We encourage you to contact your state legislators and let them know you support direct shipping."
It makes me wonder, why do they bother? How many customers are going to go through all that rigmarole (did you even bother reading the whole text?) when they can walk down the block and buy their bottle of bourbon from their friendly neighborhood liquor store? A store that is a lot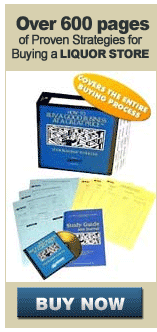 like the one you are thinking about buying!
Then there is the fact that the federal and state governments regularly consider shutting down all Internet sales of alcohol and tobacco. So if you are looking for a business that is resistant to being overrun by Internet competition, look no further. Your own liquor store is a great choice.

Do, however, be on the lookout for big wine and liquor merchants who do extensive business within the state where you are thinking of buying a store. There are more and more of these mega-retailers every year; their ability to offer low prices and ship within the state where they are located (and possibly to neighboring states, depending on applicable laws) can make them formidable competitors to small liquor retailers.
To learn more about buying a highly competitive independent liquor store, be sure to get my new guide, How to Buy a Good Liquor Store at a Great Price©.

To learn more success secrets of top-performing liquor stores, be sure to order our guide, How to Buy a Good Liquor Store at a Great Price.
---
This article represents a fraction of what you'll learn in How To Buy A Good Liquor Store At A Great Price© - the most widely used reference resource and strategy guide for anyone thinking about buying a liquor store. Read a detailed listing of what you'll learn.